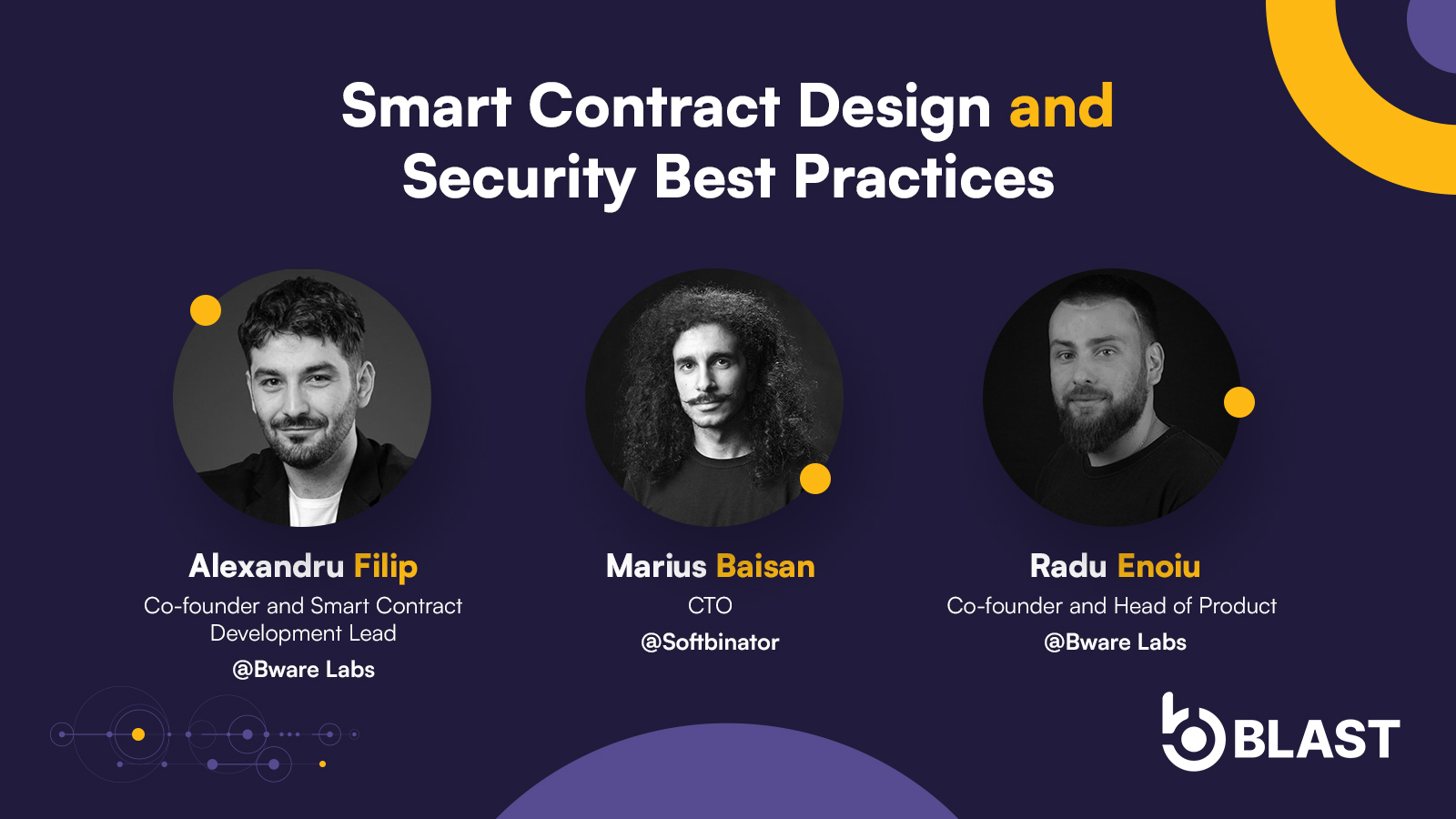 Webinar – Best Practices in Smart Contract Security
With Marius Băisan, Co-founder and Advisor at Softbinator Technologies & Alexandru Filip, Co-founder and Smart Contract Development Lead at Bware Labs
Smart contracts represent a cutting-edge advancement in blockchain technology, holding the potential to revolutionize various industries and applications. And like any powerful technology, when used wrong, it can open the gates to vulnerabilities.
This webinar aims to advise organizations on smart contract security: tips, tricks, best practices, mistakes to avoid, and more.
Tune in to this casual but practical talk with Marius Băisan – Co-founder and Advisor at Softbinator Technologies, and Alexandru Filip – Co-founder and Smart Contract Development Lead at Bware Labs, moderated by Radu Enoiu – Co-founder and Head of Product at Bware Labs.
The main talking points include:
why blockchain isn't an industry but rather a culture and tight community
how social media platforms play a key role in assessing blockchain projects
why testing edge cases is an important part of security audits
the simple methods that could increase Web3 mass adoption
About the speakers:
Marius Băisan, Blockchain Enthusiast @ Softbinator Technologies
Marius is a product-led professional with more than 10 years of experience in the IT field, who pivoted from Innovation Manager to VP of Technology and CTO. He previously led the blockchain department at Softbinator Technologies, and he's passionate about everything related to the Web3 space. Marius is also actively involved in helping startups and communities overcome blockchain security challenges.
Alexandru Filip, Co-founder and Smart Contract Development Lead @ Bware Labs
Alex has over 4 years of experience as a software engineer, and he's currently designing, developing, and deploying smart contracts for various dApps and DeFi applications. He's also responsible for safely and accurately implementing Bware Labs' Web3 decentralized infrastructure through blockchain APIs.
Radu Enoiu, Co-founder and Head of Product @ Bware Labs
With over 10 years of experience in the engineering field, Radu has explored several product management and engineering roles, working for companies like Fitbit and Google. Currently, he leverages his tech expertise and contributes to providing Web3 builders with decentralized infrastructure and high API performance.
Unlock the video and transcript with your email