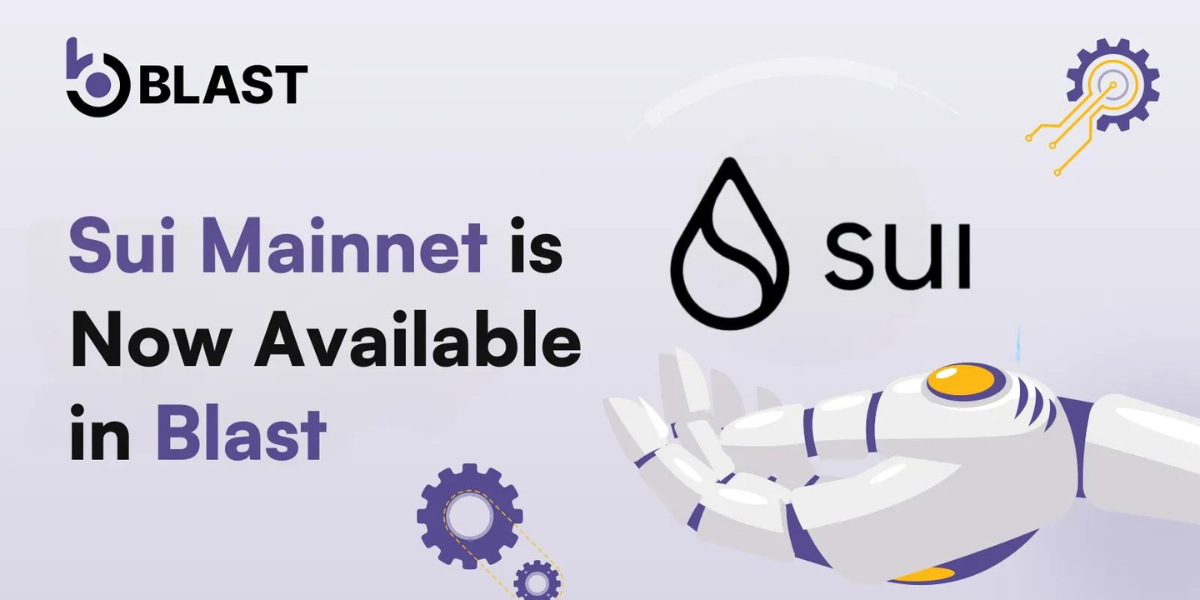 Sui Mainnet available in Blast from Launch Day
The Sui Layer 1 blockchain network officially launched its Mainnet on May 3, 2023. The network has gained recognition for its NFT and gaming platform for the Web3 industry on account of its Move programming language for smart contract development, based on Rust.
The Sui blockchain aims to overcome the challenges in the Web3 space, such as scalability, security, and gas fees, and since Mainnet is live, builders can now start deploying smart contracts and benefit from high-speed transactions, instant transaction finality, and reduced latency.
With the launch of Mainnet, Sui is on track to establish a new standard for innovation, performance, and security for blockchain smart contract platforms.
Building on Sui provides several benefits to its users, including its permissionless nature, horizontal scalability, causal ordering, better user experience, no system timeouts, low latency, asset-oriented data model, and third-party replication. Sui's horizontally scalable infrastructure allows developers to build applications with higher speed at low cost and latency while maintaining atomic composability. Its causal ordering enables parallel agreement on causally independent transactions, better utilizing processing resources, and offering the option to increase throughput by adding more resources. Sui's asset-oriented data model allows for composable and secure programmability, while its third-party replication enables cheap and accessible replication via sparse nodes. With no system timeouts, Sui operates at network speed without waiting for predefined timeouts, ensuring a better user experience and faster transaction processing.
Mainnet will provide developers with a powerful platform to define and build a range of innovative projects such as on-chain DeFi and traditional finance (TradFi) primitives to facilitate low-latency on-chain trading. Builders can also work on complex games and NFTs, business logic, or decentralized social media networks. The low-cost of transactions will allow the deployment of mass airdrops, which can support the creation of efficient reward and loyalty programs. Last but not least, Sui's asset tokenization services will enable large-scale seamless transfer of ownership for a wide range of assets.
Bware Labs is committed to supporting Sui's efforts to achieve decentralization and Web3 mass adoption. As part of this commitment, Blast has integrated support for Sui Mainnet from Day 1, providing developers with a seamless transition to the new network.
Blast is releasing API support for Sui Permanent Testnet as well, which has been designed to continue running even after the Mainnet goes live. Through Permanent Testnet, users can become familiar with the platform's unique features and the Sui Network UX, they can test and refine their dApps and ensure they are well prepared for Mainnet release.
Permanent Testnet comes with significant feature updates, including a dynamic validator set that allows validator candidates who meet sufficient stake requirements to join the network at epoch boundaries in a permissionless way. Additionally, full node restore from database snapshot is available. Furthermore, account addresses, object IDs, and transaction IDs have been upgraded to 32 bytes to prevent hash collisions.
The integration of Mainnet and Sui Permanent Testnet into the Blast platform comes as an expected next step, after Devnet support, Testnet Wave 1, and Testnet Wave 2. By collaborating with Sui, Bware Labs is helping to drive innovation in the blockchain space and empowering developers to create the next generation of decentralized applications.
How to Generate a Dedicated Sui API in Blast
Find out more: Sui Mainnet | Sui Testnet