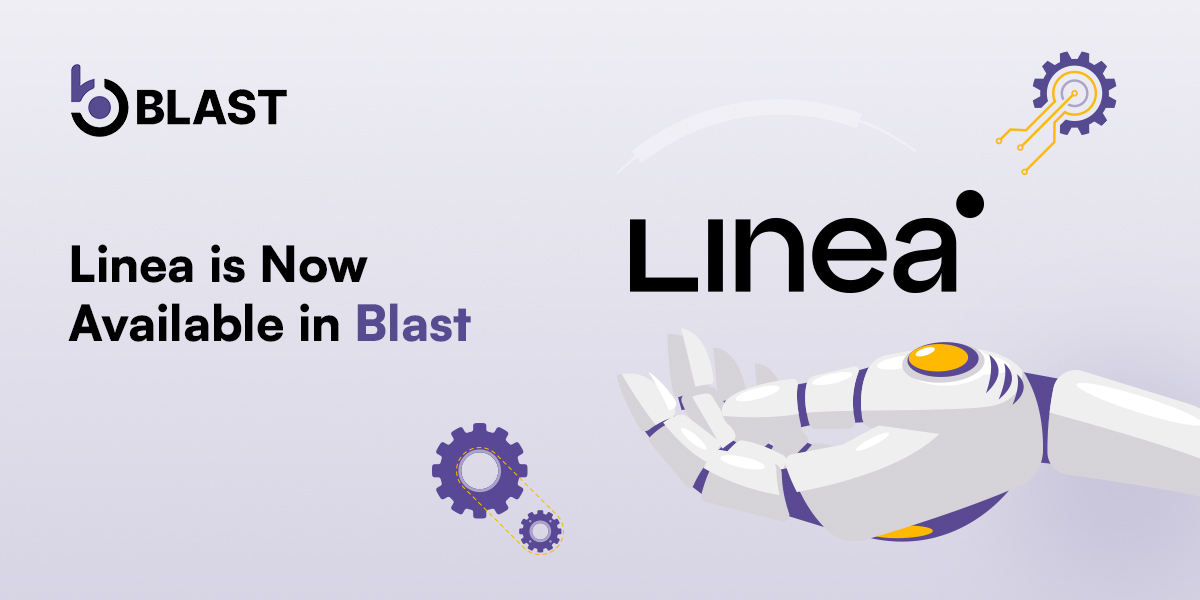 Linea Endpoints Now Available in Blast!
Builders can now benefit from Linea's low gas fees & latency, high throughput, and full EVM compatibility directly through Blast API!
Linea is a zkEVM rollup offering fast finality, high throughput, low gas fees, and the security of Ethereum settlement. Building with Linea unlocks new capabilities without compromising the security and developer experience of Ethereum. It employs lattice-based cryptography to create zero-knowledge proofs for every transaction performed on the network while providing out-of-the-box EVM compatibility.
Developed by Consensys, Linea is powered by the Consensys zkEVM, an open-source zkEVM designed to wrap EVM computation in zero-knowledge proofs. Since its inception, Consensys has been at the forefront of innovation, pioneering technological developments within the web3 ecosystem. Consensys is the team behind dApps such as MetaMask, the most popular self-custodial wallet, with more than 100 million users annually.
Consensys consistently aims to advance the Ethereum ecosystem and generalize Web3's utility and accessibility. By default, Linea offers native integrations with tools such as MetaMask, enabling builders to concentrate solely on groundbreaking developments.
Linea offers enhanced scalability for the Ethereum building experience. Its inherent compatibility with the Ethereum Virtual Machine (EVM) allows for the deployment of pre-existing applications and the initiation of new ones that would be prohibitively expensive on the Ethereum Mainnet. This empowers the community to operate these dApps more efficiently in terms of cost and speed compared to Ethereum Mainnet. Merging the efficiency of zero-knowledge proofs with complete EVM compatibility, Linea empowers builders to either scale dApps or transition current ones without the need to modify code or adapt smart contracts.
Blast API Integrates Linea Mainnet and Goerli Testnet
And now, everyone's favorite part: Blast has officially added support for the Linea Network! This integration represents another significant step in expanding our suite of supported blockchains, catering to projects across the entire Web3. Developers can now get quick and decentralized access to Linea's Mainnet and Testnet for seamless chain interactions and data availability!
By choosing Blast as their API provider, devs benefit from a user-friendly interface and extensive documentation, enabling Linea builders to obtain custom endpoints with minimal effort. Moreover, they can effectively manage multiple projects, benefit from high throughput, and experience industry-leading response times and exceptional reliability.
"Consensys is pleased to welcome Blast API to the Linea network. This partnership showcases our dedication to working closely with innovative partners to provide the tools and foundational infrastructure developers need to build dApps on Linea" said Declan Fox, Product Lead for Linea.
Everything you need to start #BUIDLing on Linea using Blast
Generating a dedicated Linea Endpoint in Blast
Go to https://blastapi.io
Press on Get Endpoint or Launch App -> Consumer App.
Connect with your Metamask wallet or with any WalletConnect compatible wallet
Sign or approve your action
Create a project to be able to generate APIs or use one of your existing projects
Activate your Linea endpoint.
Happy building!
With the integration of Linea, Blast now supports 49 networks and 27 chains, aiming to become THE platform for boosting blockchain adoption and supporting Web3 builders from development to production, release, and beyond. The set of blockchain projects available within Blast is carefully selected in order to support Web3 development efforts on the most relevant networks in the industry. For any builder who is ready to start their blockchain journey, the Bware Labs team of experts is available 24/7 via Discord!