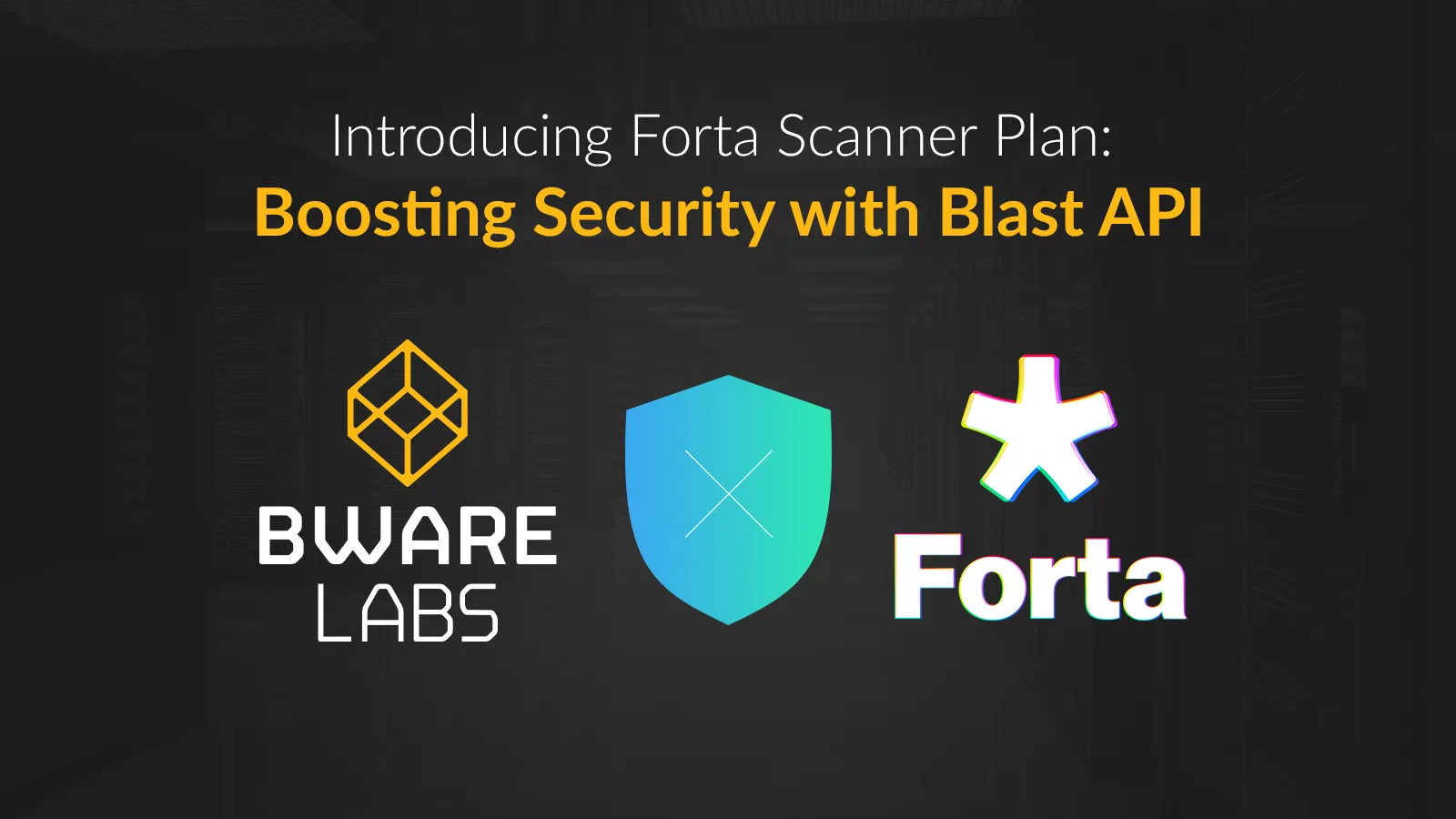 Introducing Forta Scanner Plan: Boosting Security with Blast API
Blockchain technology has revolutionized the way we conduct transactions and share information. However, the decentralized nature of blockchain also attracts malicious actors seeking to exploit vulnerabilities. To counter this, Forta Network was developed to scan various networks for all events indicating malicious activity.
Forta is a real-time detection network for security monitoring of blockchain activity. The decentralized Forta Network scans all transactions and block-by-block state changes, leveraging machine learning to detect threats on Web3 systems such as DeFi, NFTs, bridges, governance, and others.
Forta is taking things to the next level by collaborating with Bware Labs and leveraging Blast. Forta node operators can now take advantage of Blast's decentralized API protocol for all the networks supported within the platform. This subscription-based service, known as Forta Scanner Plan, offers numerous benefits to node operators while enhancing the overall security of the Forta ecosystem.
Forta Scanner Plan completely eliminates the need for node operators to manage their blockchain nodes independently. Instead, they can effortlessly spin up a blockchain endpoint in less than a minute using Blast API. This streamlined process frees up valuable time and resources, allowing node operators to focus on other critical tasks.
The Forta Scanner Plan also provides node operators with access to a wide range of API calls supported by Blast API. By utilizing Blast's comprehensive API capabilities, node operators can improve their scan service level agreements (SLAs), resulting in more efficient and effective detection of malicious activity. Furthermore, node operators can leverage their Blast endpoints for API calls made by Forta Agents, further enhancing scan SLAs.
Blast API aligns with Forta's vision of decentralization. Through Bware Labs' decentralized infrastructure, Blast fetches blockchain data from a wide network of onboarded node operators. This approach not only ensures a more resilient and reliable service, but also contributes to the overall decentralization of the blockchain ecosystem.
In terms of performance, each provision of 25 million API calls comes with a throughput of 50 API calls per second. This high throughput rate ensures that Forta node operators can process a substantial number of API calls efficiently, minimizing any delays in detecting and responding to potential threats. Node operators can benefit from an exclusive pricing offer of $35 for 25 million API calls. Each additional provision of 25 million API calls incurs the same cost, allowing operators to scale their usage according to their needs.
By integrating Blast API into the Forta ecosystem through Forta Scanner Plan, node operators can enhance the security and efficiency of their scanning operations. With easy access to reliable blockchain endpoints, a wide range of API calls, and a decentralized infrastructure, Forta and Blast API are empowering node operators to better protect blockchain networks from malicious activity, contributing to the growth and adoption of secure and robust blockchain technology.
To get access to the Forta Scanner Plan, simply fill in the form with the required information. If you need to find out more technical details, access the Forta Docs on the following link.