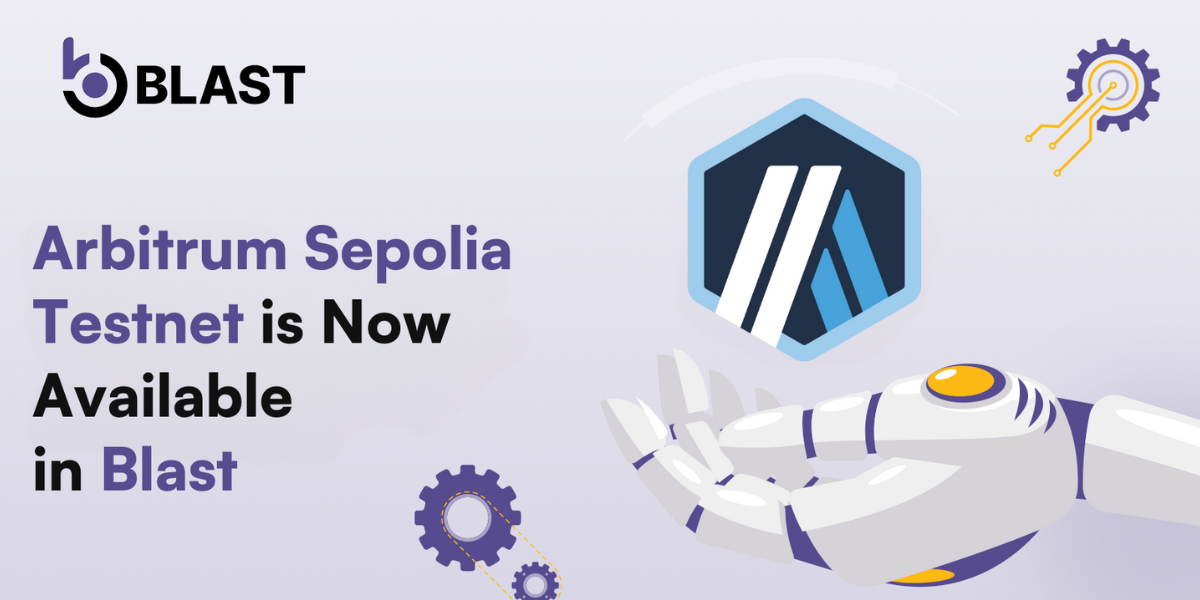 Introducing Arbitrum Sepolia Testnet: The Latest Addition to Blast API's Available Endpoints
The blockchain space is a dynamic and ever-evolving ecosystem, constantly pushing the boundaries of what's possible. As the demand for scalable, efficient, and developer-friendly solutions grows, so does the need for innovative networks and testnets. Enter Arbitrum Sepolia, the latest addition to Blast's impressive lineup of supported networks. In this article, we'll explore what Arbitrum Sepolia is all about and how it can benefit developers. But before we dive in, let's take a moment to understand the significance of Arbitrum and the Sepolia testnet.
Arbitrum: Scaling Ethereum to New Heights
Arbitrum is a game-changer in the world of blockchain technology. It's a set of Ethereum Layer 2 scaling solutions designed to address some of the most pressing issues faced by Ethereum developers and users. Developed using the Arbitrum Nitro tech stack, Arbitrum offers two key components: Arbitrum One and Arbitrum Nova. Ethereum's transition to a proof-of-stake consensus mechanism with Ethereum 2.0 is a step in the right direction, however, Layer 2 solutions like Arbitrum are essential for immediate scalability improvements.
Sepolia Testnet: A Stable Ground for Ethereum Developers
Let's shift our focus to the Sepolia Testnet. Sepolia has earned a reputation as a stable and reliable Ethereum testnet. It underwent a significant transformation when Ethereum transitioned from Proof of Work to Proof of Stake, aligning its infrastructure with the Ethereum Mainnet. For developers, Sepolia provides the perfect playground to deploy and test Solidity smart contracts.
One of Sepolia's standout features is its faucet service, which ensures that developers have access to Sepolia ETH for gas when testing decentralized applications (dApps). Unlike some other testnets, Sepolia boasts an uncapped supply of testnet tokens, ensuring that developers won't face token scarcity issues during their testing and development processes.
Blast Welcomes Arbitrum Sepolia Testnet
Now, the moment we've all been waiting for: Blast has officially added support for Arbitrum Sepolia Testnet! This integration represents a significant step forward in providing developers with the tools they need to succeed in the Web3 space.
With Blast's support for Arbitrum Sepolia, developers can harness the power of this innovative testnet through a user-friendly and robust API. This means easy access to the Sepolia testnet's capabilities, including RPC endpoints for seamless interaction with smart contracts and dApps.
Why Arbitrum Sepolia on Blast Matters
Seamless Integration: Blast makes it incredibly easy for developers to connect and interact with Arbitrum Sepolia. The user-friendly RPC endpoints ensure a smooth experience for developers, eliminating the headaches of setting up and maintaining infrastructure.
Scalability and Efficiency: Arbitrum Sepolia inherits the scalability benefits of the Arbitrum Nitro tech stack. This means faster transaction speeds and lower fees, making it an attractive option for developers building decentralized applications.
Abundant Testnet Resources: Sepolia's uncapped supply of testnet tokens ensures that developers won't run into token scarcity issues during testing, allowing them to focus on their projects without interruptions.
Innovation and Experimentation: With Arbitrum Sepolia on Blast, developers have a playground to innovate and experiment. Whether you're building DeFi applications, NFT platforms, or gaming ecosystems, this combination offers endless possibilities.
The addition of Arbitrum Sepolia to Blast's network lineup is a sign to our commitment to supporting and empowering blockchain developers. With user-friendly APIs, developers can tap into the potential of Arbitrum Sepolia with ease, making it easier than ever to bring their decentralized dreams to life.
How to generate a dedicated Arbitrum Sepolia Testnet RPC endpoint in Blast
Go to blastapi.io
Connect with your Metamask wallet or with Wallet Connect
Create a project to be able to generate APIs or use one of the projects you have already created
Inside the project space, go to Available endpoints and activate Arbitrum Sepolia Testnet to obtain the custom RPC endpoint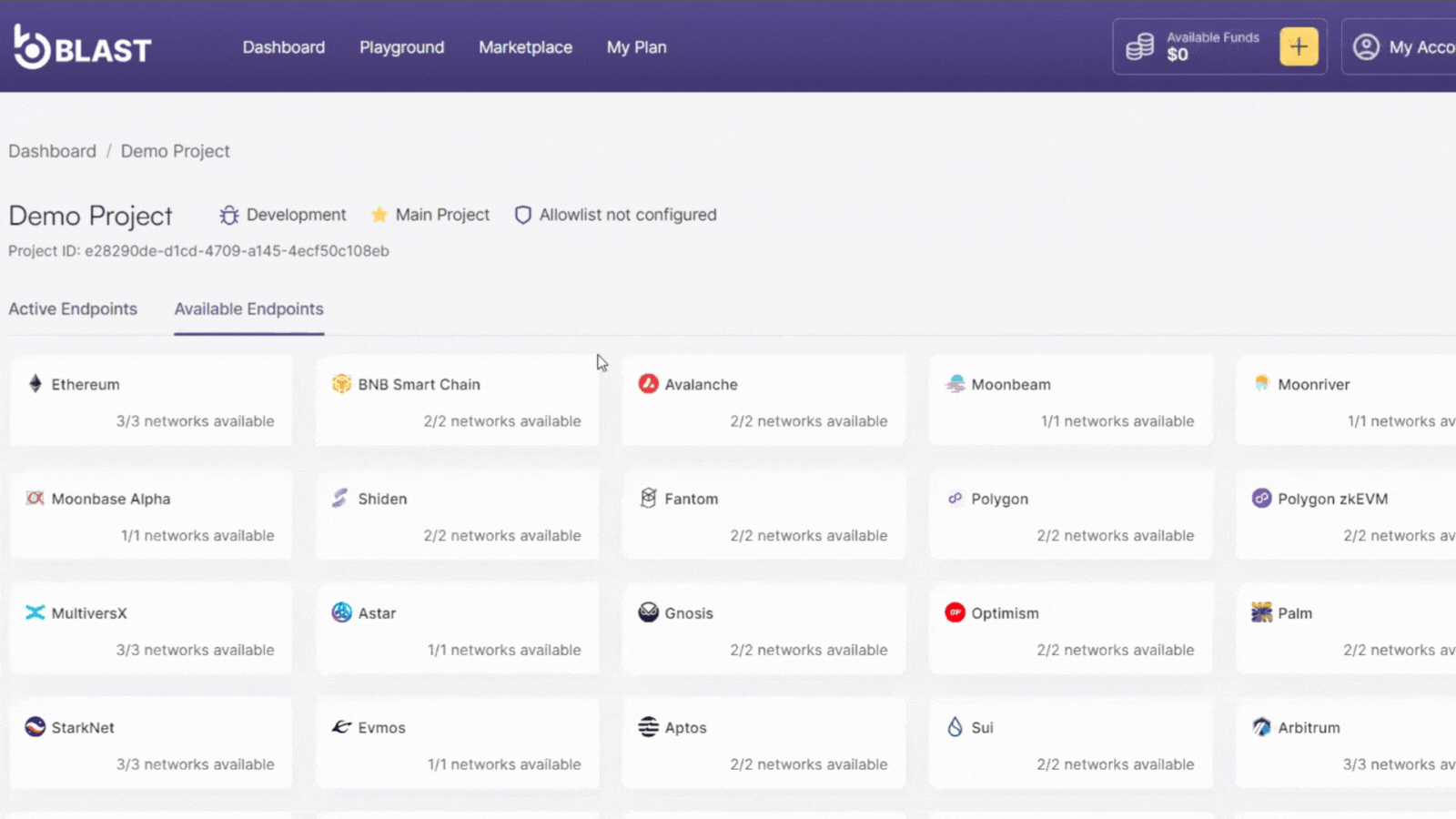 Blast also offers an Arbitrum Sepolia public API, which can be found here: https://blastapi.io/public-api/arbitrum
As the blockchain space continues to evolve, we remain dedicated to providing the tools and resources necessary to stay at the forefront of innovation. With Arbitrum Sepolia now in the mix, the future of Web3 development is looking brighter. So, if you're a blockchain developer or enthusiast, it's time to explore the possibilities that await you on Blast's Arbitrum Sepolia Testnet. Build on!