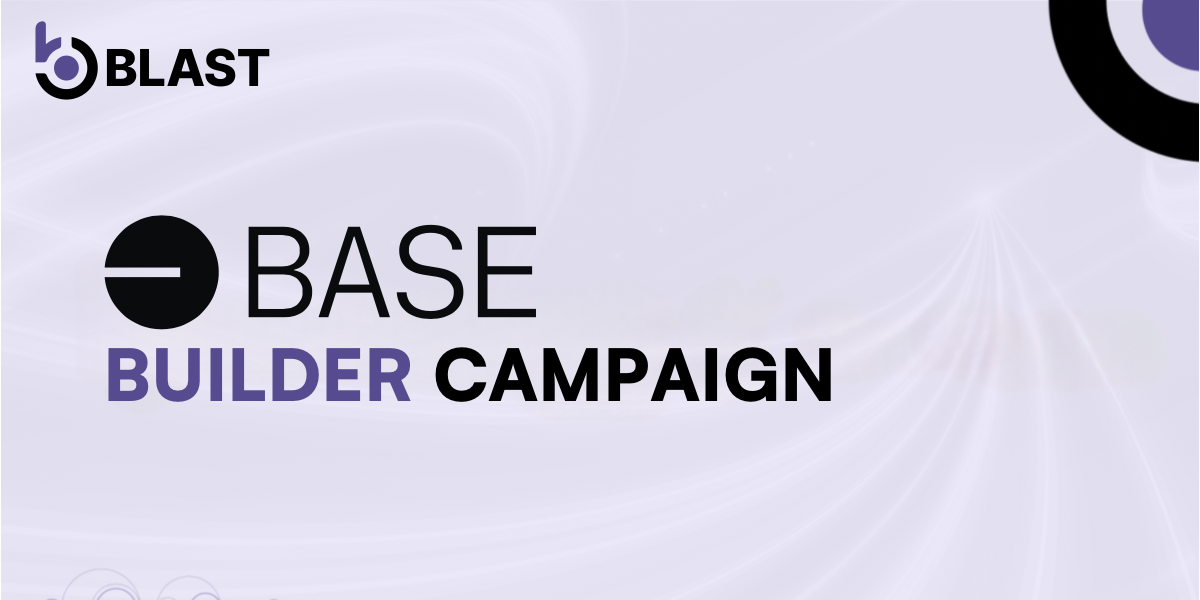 Blast API Launches Base Builder Campaign
Feeling the post "onchain summer" blues? We're starting a Builder Campaign to support developers further on their #BUIDLing journey through amazing perks!
Base mainnet was launched for the public in August this year, with more than 100 dApps and service contributors live within the Base ecosystem since release. According to Jesse Pollak, Creator of Base, Base builders have the advantage of reduced transaction fees and quicker processing times than on Ethereum, thanks to the network's rollup architecture. This reduces costs by up to 10x for developers.
Blast API integrated the Base Testnet and Mainnet since their launches, in our continuous efforts to provide developers with decentralized access to their preferred blockchains. Since then we have noticed amazing traction from builders towards developing on Base, with 9.5 million calls daily with an average of around 2000 requests per second. At its peak, Blast serviced 400 million daily calls on Base, with a throughput of 5000 requests per second
Developers working on Base can improve their building experience by using Blast as their endpoint provider. By taking advantage of Blast's intuitive interface and thorough documentation, Base devs can swiftly create tailored API endpoints with little hassle. Moreover, they can adeptly handle numerous projects, experience superior throughput, and receive top-tier response times coupled with outstanding reliability.
In order to celebrate the traction we have seen within Blast in the past month on Base, we're offering Base builders 50 X 6-month Developer Plan subscriptions (worth $300/participant) as well as 25 x 3 months of free Start Up Plans (worth $750/participant)
How to Claim Your Blast Perks
1. First, connect your Metamask/WalletConnect to our Blast API platform https://blastapi.io/ by following the below steps:
Click the button Launch App
Select the Consumer App option
Connect with one of our available wallet providers: Metamask or a WalletConnect-compatible wallet
Click Sign a message to continue and sign the message in Metamask/WalletConnect
Click the button Go to Dashboard
2. Once your account is created, complete this form. After we receive your submission, the Blast team will provide the necessary credits within Blast.
Disclaimer
By taking part in this campaign you adhere to the following terms and conditions:
You are 18 years old or above.
You are not a person or entity residing in, holding citizenship from, incorporated in, or having a registered office in the United States of America or any "Prohibited Localities": Myanmar (Burma), Côte D'Ivoire (Ivory Coast), Cuba, Crimea and Sevastopol, Democratic Republic of Congo, Iran, Iraq, Libya, Mali, Nicaragua, Democratic People's Republic of Korea (North Korea), Somalia, Sudan, Syria, Yemen, Zimbabwe, or any other state, country, or region included in sanctions designations published by international organizations or governmental authorities from any jurisdiction.
You will not access this campaign in the future while located within the United States or any Prohibited Localities, as defined above.
You are not, and will not in the future be, using a VPN to hide your physical location from a restricted territory.
You have lawful permission to access this interface under the laws of the jurisdiction where you reside and are located.